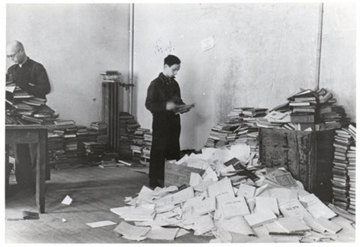 [75KB] Click to view full size image.
Title
Workers sorting through books in the YIVO building
Date
Circa 1943
Description
The YIVO building in Vilna (which was located outside the ghetto) was converted into a processing center for ransacked Jewish libraries and archives from Vilna and the surrounding area. A group of twenty inmates from the Vilna Ghetto was taken each day to the YIVO building where selected collections were being prepared for shipment to the Institut der NSDAP zur Erforschung der Judenfrage in Frankfurt-am- Main.
Agency
YIVO
Subjects
Yivo Institute for Jewish Research; Archives; Libraries; World War, 1939-1945
Keywords
World War II
Holding Institution
YIVO
Digital ID
yivo004