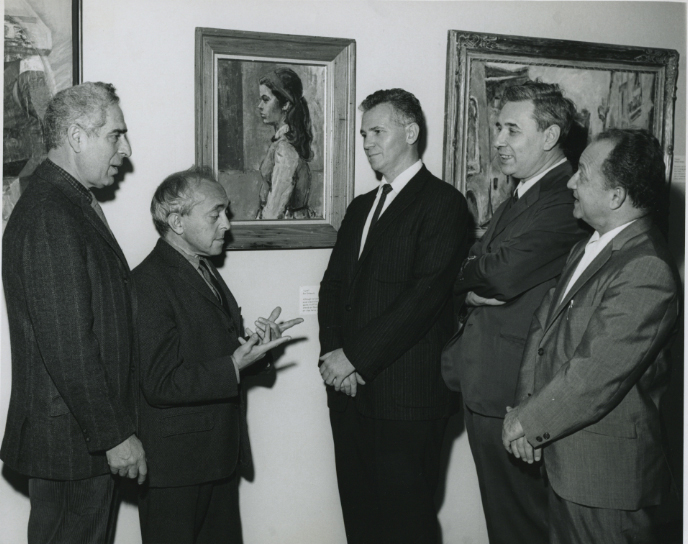 [264KB] Click to view full size image.
Title
"Through the Language of Art" exhibit at the IBM Gallery
Date
Circa 1940's
Description
Chaim Gross (far-left) and Moses Soyer (near-left), art instructors at the Educational Alliance and well-known artists, stand before the work of Ben Schwartz, a student of Mr. Gross. To the right of the painting are Mr. Schwartz, Alexander Dobkin, Director of the Educational Alliance Art School, along with Sandler of the Day Journal. The exhibit was sponsored by the Federation of Jewish Philanthropies and included the works of the patients, clients and staff of their 116 agencies.
Agency
Educational Alliance
Subjects
Educational Alliance (New York, N.Y.); Lower East Side (New York, N.Y.); Art Study and teaching; Gross, Chaim 1904-; Soyer, Moses, 1899-1974; Jewish artists; Art Exhibitions
Keywords
Arts and Culture; Celebrations/Events; Lower East Side
Format
Photograph
Creator
Camera Arts Studio
Holding Institution
YIVO
Collection
Educational Alliance (RG 312)
Digital ID
yea022